In our 3rd Annual NOVELWritingSite competition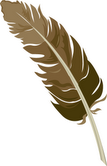 FIRST PLACE:
Forest of Secrets by Elizabeth Hornberger
SECOND PLACE:
One Hand Clapping by Carolyn Dotson
THIRD PLACE:
The Last White Knight by Josephine McCoy
Congratulations to these writers and to all this year's entrants! It takes great courage to show your work to others.
I think I speak for all of us at the NOVELWritingSite in saying that we'd love to see more of each of these stories. Please keep writing! 🙂
Come back next week as we continue our Summer Series on
Where Ideas Come From

!