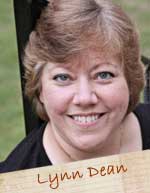 Lynn Dean dictated her first story before she could write and continued to write stories, illustrate them, and bind them into books throughout childhood. As a homeschooling mom, she enjoyed passing a love for writing to her own children and ten years of co-op students.
When her last child graduated, she delved into fiction writing and has two manuscripts under consideration by Christian editors. She is also collaborating on a multi-media tourism promotional highlighting the Texas Rangers and researching a historical novel to benefit the Sailor's Creek Battlefield Historical State Park. Lynn is the author of DISCOVER TEXAS—a state history curriculum for private Christian schools.
Email Lynn at yoursbecausehis@gmail.com.