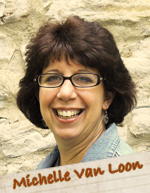 Author Michelle Van Loon home schooled her three children for 13 years. All three graduated from home school and are now young adults. Michelle began teaching groups of home schooled students in her local co:op what the Lord had taught her about writing. Over a decade ago, the success of these classes led to the launch of her home school writing tutorial business (www.homepagewriting.com).
Michelle is the author of 2 books about the parables of Christ, as well as three full-length plays, numerous articles, skits, curriculum reviews, devotionals and children's stories. She's served on staff handling communications duties at a church, a Christian university and a service ministry. She speaks about spiritual formation topics and writing to groups across the midwest.
You can email Michelle at mishvl@yahoo.com or visit her at her websites.