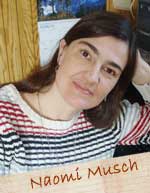 Naomi Musch is the author of the inspirational novel The Casket Girl, a romantic adventure of the French and Indian War. She and husband Jeff enjoy epic adventures in the northwoods with their five young adults.
She's a contributor to Home School Enrichment magazine and provides further encouragement for homeschoolers at www.applesofgoldnews.com. Also, as a staff writer for Living Stones News, Naomi has written numerous articles based on the life-changing testimonies of others (www.livingstonesnews.com).
Naomi is currently completing a three-book Wisconsin historical series, and introducing a new blog about "The Secret Lives of Characters". Visit her at www.naomimusch.com.
You may email Naomi at muschfarm@yahoo.com.