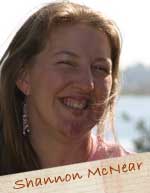 A transplant from the Midwest, Shannon McNear has lived for the last 20 years in the Lowcountry of South Carolina with her husband and eight children. With two graduated and in college and the younger six still homeschooling, she does her best to steal slivers of writing and reading time in between being ballet and drama mom.
She's been writing one thing or another since third grade and has completed five novels, from Southern fiction to Revolutionary-War historical and fantasy. She's served in worship and women's ministry, in writer's groups, and as an occasional book reviewer. Mostly she just loves to share the Lord or some tidbit of cool research she's just found.
Glimpses of her life can be found at www.shannonmcnear.com, and you can email her at sdmcnear@gmail.com.